This ring made with black diamonds on the top and elephant hair in the side.
I used to make a lot of ele hair jewellery when I lived in Botswana. And no, we did not harm the ele's when we collected the hair. It is found at waterholes in the winter, when they are dried up. What happens is that when the water holes are filled with water, the ele's play in the mud and roll around in it. Sooner or later, one will step on another's tail and an almighty squeal ensues. ( really funny to see) . Then when the water hole dries up in the very dry Botswana winter, we would collet the strands that have been pulled out.
Ele hair is from the bottle brush at the tip of the tail, and is surprisingly thick, like up to 2mm. Nothing cuddly at all…..
As the picture shows below,I made this ring using the diamonds of the trashed ring. 133 diamonds, if my memory serves me correctly.
This is actually three rings, made for one of my favourite customers, Linda.
A white gold formal ring and then fused two yellow gold bands. So all are loose and they can be worn in different configurations. I always like making this kind of style of jewellery, because it allows a woman to mix and match her jewellery, depending on the occasion and what she is wearing.
Okay, so now we come to gem carving, one of my many other obsessions. ( I have far to many )
A citrine, she started out at 25 carats.
What I wanted to try, was to carve this one in an opposed
bar cut, much like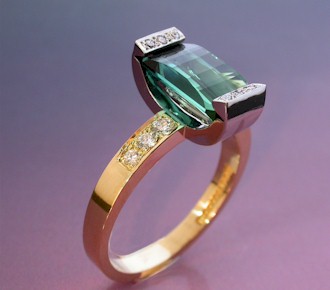 this one.
This is a carve that brings out the colours of liquid gold.
And while she looks very pretty from the top, which was my original design , as in so many things in life, it just does not turn out as expected.
Like for instance, it looks better upside down. From pale yellow to dark orange , she begs to be set like that.
She lives in that position.
This is something that has happened to me quite a couple of times. Namely that the design look better upside down.
Check out the colour, the sparkle,  the saturation.Far better than the right way around.
So, being the maker and designer of this future  undesigned ring, ahem, and having unlimited  options and possibilities,  I can change as I wish.
So I changed everything….
Instead of it being curved over the top I am going to make it curved towards the bottom.
Then I am going to make a ring that suits this design.
You know, I don't want to whinge, but really, the quality of water here really sucks. And this is after a refurbishment of some millions of dollars in the purification plant was done recently. I just wonder WHAT is the brown stuff in the water.